Airport
Milwaukee Mitchell International Airport
Located just eight miles (an easy ten minute drive) from downtown, Milwaukee Mitchell International Airport (MKE) offers travelers lower fares and more options than ever to make starting your vacation in Milwaukee a snap with non-stop service to 50 cities.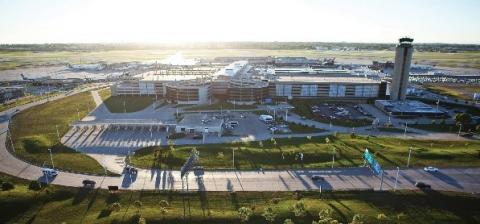 Getting from the airport to where you need to go is easy thanks to eight on-premise auto rental agencies, plus plenty of shuttles, taxis, limousine services, and coach transports. Uber and Lyft drop-off and pick-up service is available to the airport. An Amtrak station is also conveniently located near the terminal, with a free shuttle bus between the airport and the station. Let your local friends and family know that picking up passengers is easy – in addition to the baggage claim pickup area, the first thirty minutes in the hourly and surface lot is free!
Transportation
Milwaukee is located just 90 minutes north of Chicago and within a day's drive of one-third of the U.S. population. Whether you travel by plane, train, car, or bus, it just might be a quicker trip than you think. 
Driving
Milwaukee is conveniently located at the intersection of I-94 and I-43. The award-winning $810 million Marquette Interchange completed in 2008 assures optimal downtown highway traffic flow. Parking downtown is readily available. Visit ParkMilwaukee.com to find lots and structures near popular downtown attractions, and use the handy MKE Park app to pay for meter parking directly from your phone.
Walking
Milwaukee's compact downtown makes it easily walkable! The 3-mile Milwaukee RiverWalk winds through downtown, connecting the Beerline B neighborhood to Old World Third Street and then the Historic Third Ward.
Public Transportation
Buses run throughout downtown Milwaukee and the rest of the county, including special shuttles to summertime lakefront events. The Ride MCTS app makes it easy for all to get around with route information and real-time bus tracking - you can even buy your ticket directly from your phone! For more information on Milwaukee County Transit, please visit ridemcts.com.
Trains
Located downtown, the recently renovated Milwaukee Intermodal Station features 14 total Amtrak departures daily between Chicago and Milwaukee and daily direct departures between Minneapolis/St. Paul. Connect through Chicago to over 500 cities nationwide.
Ride Share
Uber and Lyft both operate in Milwaukee. Use code VISITMKE ( or visit www.lyft.com/i/visitmke) for $10 off two rides from Lyft. 
Acce​ssibility
All Milwaukee city buses are wheelchair-accessible via a ramp at the front of the bus. Other accessible rides can be arranged through local non-emergency transportation companies. The Amtrak train between Milwaukee and Chicago is also wheelchair accessible.