File Type Required:
Adobe Illustrator  (.eps or .ai)
Adobe Photoshop (.psd or .tif), include transparency in file. Sometimes it is necessary to place your logo on a colored background and transparency would eliminate a white box around the logo. (see example)  Sending your logo constitutes the company's permission to let IPC place their logo on a colored background.
Format Required:
Rasterized art must be 600 dpi or greater
No placed images — manipulation of images must be allowed
All fonts must be converted to outlines
Outline thickness no less than 1 point
Type no less than 8 points
Send all artwork to KimDiCianni@ipc.org
Advertising Board Specifications
Your company's custom designed message will be placed on a 1 m wide x 2.5 m high meter board in the exhibit hall, delivering your message to purchase-authorizing professionals.
The artwork developed for your meter board will be replicated on both sides of the meter board. Different images for each side are not available.
Artwork must be developed at 100% of the actual finished size (39" x 84") and must be non-bleed.
The bottom 6" of the board will be covered by the frame. It is recommended that you continue your background image into that area, but be sure not to place text or a logo below that point.
Please upload your artwork here.
Preshow E-mail Banner Ads Specifications
Artwork is due 10 business days prior to the e-mail date.
All ads should be built at 468 pixels wide by 60 pixels high, and at least 72 dpi
Please also, include:

Your company name
The URL of the landing page you want your banner ad to link to

E-mail file meeting the specifications above to Kim DiCianni.
Subject must read: "EWPTE E-mail Banner Ad"
In the body of the e-mail, include:

Your company name
The URL of the landing page you want your banner ad to link to
Conference e-Brochure Digital Ad Specifications
Artwork files should be at least 72 dpi.
Acceptable File Formats

For Static Ads, artwork should be sent as a JPEG file 
GIF files are also acceptable 

Artwork under 10 mb can be e-mailed to KimDiCianni@ipc.org
Contact Kim DiCianni at +1 847-597-2823 or KimDiCianni@ipc.org with any questions.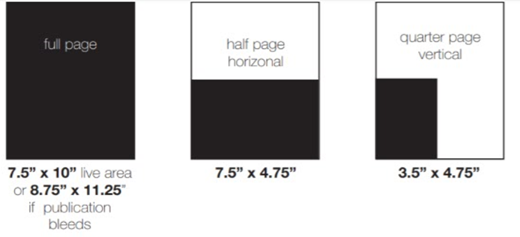 Show Directory Ad Specifications
We accept IDML (InDesign) or PDF files.
InDesign files must be supported by vector art (Illustrator) or high resolution (300 dpi at 100%) TIF files ONLY. You must send ALL supporting files and fonts.
All artwork must be CMYK. Duotones and RGB files must be converted to CMYK. Do not use LZW compression on TIF files.
We will not accept ads submitted exclusively as TIF or JPG files.
Please note: The show directory is 8.5" x 11" (trim size). All type elements must fit within the type area. Artwork under 40 mb can be e-mailed to IrinaGelman@ipc.org.
Contact Irina Gelman at +1 847-597-2843 or IrinaGelman@ipc.org with any questions.